If you love nature and everything beautiful that Earth has to offer, then you need to head to New Zealand.
Knowing where to start with planning a trip here can feel a little overwhelming because there is SO much to see.  It helps to understand more about the geography of the country.  Two islands make up New Zealand; a North and South Island. Many people love the South Island for its awestruck beauty appeal, but I found the North Island to have just as much of its own charm and excitement.
I'd say you should try and plan for time to do both. If that isn't an option take a look to see which sights appeal to you most and go from there. You could spend up to 3 months (the time allotted for a tourist visa) or even more exploring because there is just so much to see and do!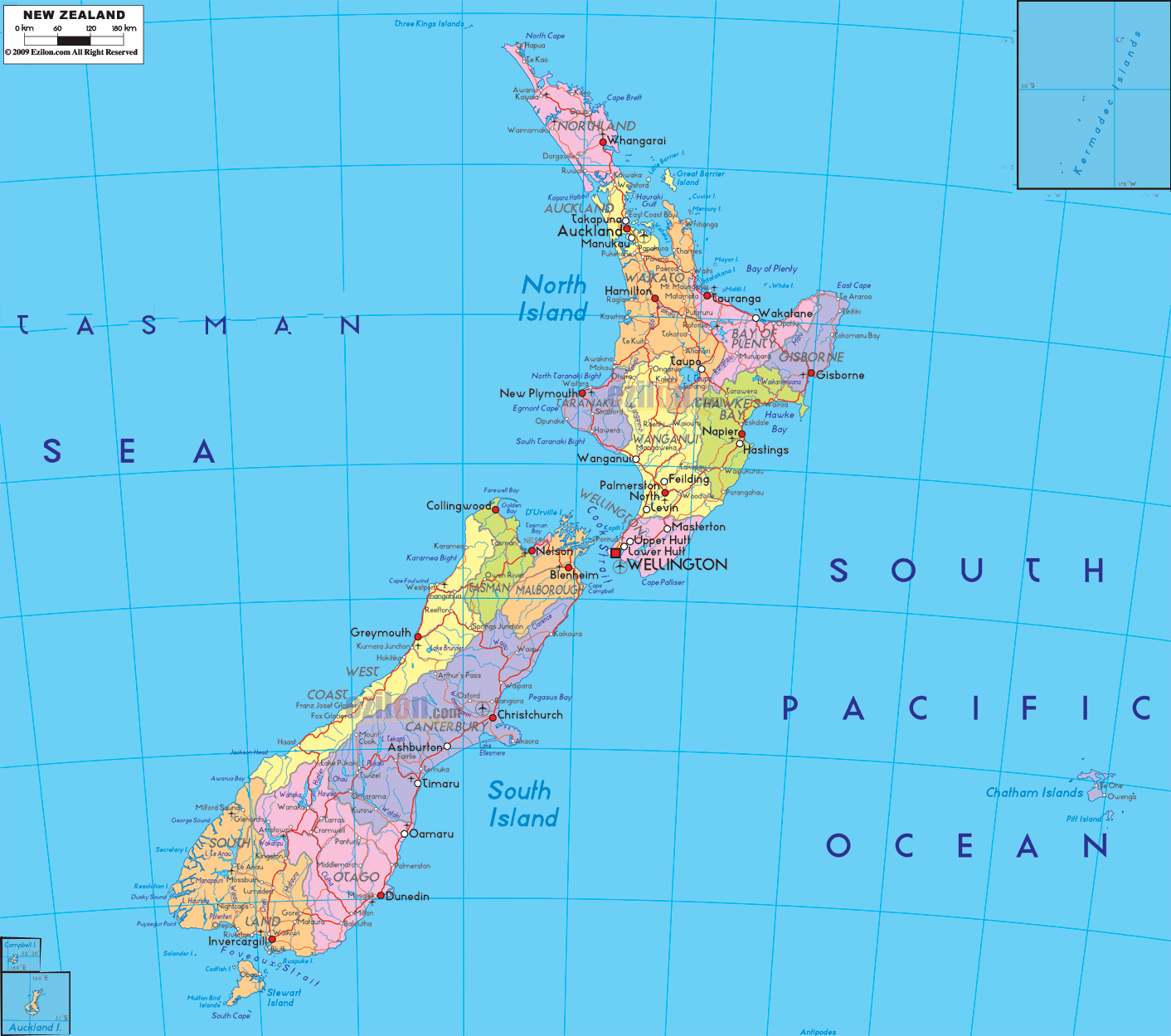 North Island Destination Highlights: (Beaches, wineries, water sports, boating, hiking, caves, hot springs, volcanoes, sunsets and more)

Auckland
Bay of Islands
Waiheke Island
Coromandel Peninsula: Mount Maunganui
Rotorua
Lake Taupo
Tongariro Crossing
Waitomo
Wellington

South Island Destination Highlights: (Adventure/thrill seeking, mountains, hikes, wineries, waterfalls, beaches, sunsets and more)

Nelson/Abel Tasman
Marlborough
Wanaka
Queenstown
Milford Sound
Arthur's Pass
Mount Cook
West Coast: Fox Glacier, Hokitika Gorge
Hamner Springs
Christchurch
Akaroa
Kaikora
The great part about New Zealand is that almost every destination has an iSite Visitors Centre.  There you can get information, guidebooks, maps, advice, and coupons for the numerous activities and adventures offered in each city upon your arrival.
How to Get Around:
There are so many options to choose from to wander all of the different sights New Zealand has to offer.  We chose to travel by car because we found it to be the easiest for our flexible schedule.  However, we did fly domestically from the North Island to the South (although a car ferry from Wellington to Nelson is also available).
Rental Cars

This is a super popular way to explore New Zealand.  There are some good cost-effective companies that make this an easy option.
Transfer Car Services (FREE!)

Transfer Car is a company that offers FREE one-way car rentals.  If you have a completely open schedule and can fly where the wind takes you this is a great option for a cost-effective adventure in NZ.  We found out about this option through one of our Airbnb hosts, however, it was towards the end of the trip so we didn't get a chance to use it, but it would definitely be a good option depending on your schedule.
Buy a used car & sell it when finished

I've heard of lots of people doing this.  If you have an extended amount of time to explore this route could be another good cost-effective option, as you will get most of your money back in the end.
Train

Another scenic way to see the country is by train. Rail New Zealand is NZ's scenic travel network.

Bus

There are lots of different tour groups that offer flexible travel between cities and this would be a great option for solo travelers! Some popular options for this type of travel include: Kiwi Experience and InterCity

Domestic Flights

Flights are always an option to get between destinations and a few discount airline ticket sites include Grabaseat and Jet Star Friday Fare Frenzy . Although this might seem like one of the easiest ways to get around, you could end up missing out on a lot of the beauty that this country has to offer, so besides flying between the two islands I highly suggest you plan some type of road trip.  However if you are stretched for time or dislike road trips, then flights between the cities are always an option!

Where to Stay:
We traveled mostly using 
Airbnb
which I loved and found to be a great way to get to know the locals and learn insider tips on each spot.  The Kiwis (local New Zealanders) are incredibly friendly, very adventurous, and interesting to share stories with!
What to See:
It can be hard to even put into words how beautiful New Zealand is but I'm going to try my best to show you through photos, links, and explanations of the different places you can explore.
North Island:
This is New Zealand's largest city, where most of the country's population resides. Although it primarily has a big city feel to it, there is lots of New Zealand charm as well.  If planning a trip this will most likely be your first destination considering it is the most affordable city to fly into from the States.
If you enjoy charming towns on the water with great food and boating options to different islands, fun water activities, hiking or swimming with dolphins…this is a good spot for you.
If you love wine and relaxing countryside with stunning views….this island is for you! A quick and scenic ferry ride away from Auckland you can find yourself in wine country paradise.
Of all my travels in New Zealand, this might be my all-time favorite spot.  Take a look at the photos and explanations below and you will understand why.
Have you ever wondered what heaven on Earth is like…because I think you might find it here!  Hot Water Beach is seriously one of the most amazing places ever. You bring a little shovel (or a "spade" as the Kiwis call it) and dig a hole in the sand around low tide (2 hours before/after is the window) and thermal hot water from the Earth literally bubbles up and forms a real-life hot tub for you to sit in and listen to the waves crash right in front of you.  Just be sure to check the tides before you go so that you can get to the good stuff and don't miss out on the best part!
Where dreams come true! Seriously…one of the most beautiful beaches I've ever seen.  A  gorgeous scenic walk along the coast takes you to stunning beaches and coves that are nothing short of breathtaking!
This stunning beach is located on the northeast coast of the Coromandel Peninsula close to the town of Whangapoua.  A hidden hike takes you there and the views and beaches are so worth the trip!
This charming town is located on Mercury Bay on the northeastern coast of the peninsula.  Nearby to Hot Water Beach and Cathedral Cove, this is a great place to stay with some beautiful beaches of its own. Shakespeare's Cliff as seen below is a beautiful spot for stunning views of the coastline.
This little beach town is another favorite of mine from the Bay of Plenty area of the North Island. Full of charm and lots to do this spot is a destination favorite of Kiwis (locals) and definitely a must.  A hike to the top of the volcano offers incredible views of the area as seen below.
This location could be described as Earth at its finest. A visit here almost feels like a visit to another planet because you get such a close sight of the geothermal activity which feels a bit mystical.  There are numerous places to see all of these wonders and I've highlighted a few of my favorites below.
This is a great option to visit and see everything from geysers to bubbling mud pools and the stunning Champagne Pool seen below.
This FREE geothermal park is another great option for up close and personal views of what is bubbling up from inside our Planet.
Sulphur hot springs are one of the many amazing things this location has to offer and Kerosene Creek is a free spot in nature where you can jump into the hot springs and experience the benefits of this wonderful water without any cost involved!
I highly suggest taking in a show and tour of Tamaki Maori Village to get a glimpse of the culture and life of the Maori people who are the indigenous Polynesian people of New Zealand.  A visit to the village includes a guided tour and a live Haka dance and a delicious hangi buffet meal.  This specific tour was suggested to us by the local Kiwis and it does not disappoint!
Stunning views, natural hot springs, and waterfalls. If you like the sound of that, definitely add this spot to your list.
The most visited and photographed natural attraction in New Zealand, it is easy to see why.
Spa Thermal Park
Located at the beginning of the hike to Huka Falls, Spa Thermal Park is a great spot to relax and sit under some hot spring waterfalls after taking in the views of gushing Huka Falls.
If you love hiking and really, really love a challenge, this is for you!  This 10.8-mile hike takes around 7 hours to complete and the incredibly diverse views make it worth every minute of it!
Magical. That's the perfect word to describe this experience. (& totally worth it.) . Unfortunately, it's nearly impossible to capture the beauty of this place with a camera without days of exposure, so I had to use some from the website, but it is so totally worth the experience, photo or no photo!  It feels like you are going through a cave full of stars.
If you enjoy cities that are full of charm and beauty, this stunning town on the water is another spot you must see. A waterfront promenade, sandy beaches, botanical gardens, and a beautiful harbor are just a few of the many amazing things this location has to offer.
South Island:
Take a ferry over to Abel Tasman for an amazing hike, beautiful beaches, and stunning coastal views.
Wine region. Tasty. Beautiful. Enough Said.

Yealands is without a doubt one of the most stunning wineries I've ever visited.  Endless vineyards located on the coast with superior views of the water and so much charm it's hard to describe how incredible it is.
Glaciers, gushing blue rivers, and endless beauty make this part of New Zealand a must-do.

The beautiful town of Wanaka was one of my favorite destinations on the South Island.  A cute town, beautiful lake, and plentiful hikes make this another NZ must-do!
Without a doubt one of my favorite hikes and also one of the most popular hikes in New Zealand, with these views it is easy to see why.
Stunning and renowned for adventure, water sports, vineyards, and more, Queenstown is another favorite destination.

One of the most scenic places in New Zealand, Milford Sound is waterfall heaven full of marine life and jaw-dropping views.  A boat tour here is the best way to experience the beauty of the fjords and stunning nature up close and personal.
Christchurch is another main city popular to fly into on the South island nearby beautiful beach towns make this another fun NZ destination.
Located near Christchurch, this charming little French-influenced town on the Bay is a must-see.
All in all, what started as a 2-week trip turned into a month and a half and I feel like I could have easily spent even more time exploring all of the amazing things New Zealand has to offer.  I'd love to go back again and explore even more of this beautiful country.
Happy traveling! XOXO